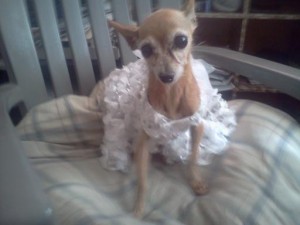 Meet our little Elfie rescued from a very high kill shelter!! She is an adorable 10 yr old Chi/Terrier mx who came to us in horrible condition! She was so skinny and had severe dental disease! We are happy to say she has put on a few pounds, and we took care of all her dental issues. She now has a clean bill of health.
We fee she would thrive in a home where she could possibly be the only doggie and get all the love and attention. She might do ok with one other doggie but she is not great with alot of animals around her as she gets very stressed out!
She is quite the little character and will talk and talk and did I say talk!! She has the cutest little conversations with herself at times and when she wants something boy she will let you know! If you are in the Los Angeles area and would love to give this little girl a home, please email us at: pepperfoundation@aol.com and we can send you the adoption application!! Elfie will make a wonderful loving forever companion!