PLEASE HELP US SAVE MINDI'S LIFE! WITHOUT IT SHE WILL DIE!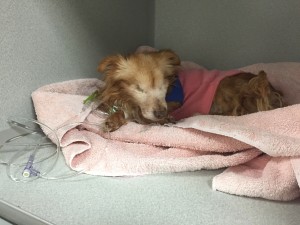 Mindi is a little long haired Dachsund that we rescued from a high kill shelter after her owner dumped her there. She is very ill right now and currently hospitalized at Access Hospital in Woodland Hills.Today we learned that Mindi has an operable fluid filled tumor on her liver and the only way to save her life is to do the surgery to remove it. It has now become infected and we run the risk of it bursting if not removed. This poor little girl has not eaten for 48 hours and has been pooping blood. They also think on top of it she might have an ulcer, which is also treatable.She will remain hospitalized on iv fluids and meds for at least a few days and we will most likely do surgery this coming week.  Our vet said her blood work looks good and her heart is strong so thankfully she is a good candidate for the surgery. But without it she will die. We dont want to give up on her because she is a little fighter and we know she has a good chance!
We originally rescued Mindi after being dumped in the shelter. She was blind but also started developing glaucoma. We tried meds but they didnt work, she began to suffer terribly. Our only real option was to remove her eyes. She did wonderfully after surgery and began to run around and play like a puppy again. We tried so hard to find a permanent  home for her but most folks could not see past her eyes and after awhile we decided it was way too stressful for her to bring her to adoptions. She gets very stressed out when you move her from her own surroundings. This little girl has been through so much but we want to get her through this and give her a fighting chance!
All donations are greatly appreciated and are tax deductible. our tax id # is: 20-5627799. I've included some of Mindi's bills from the past two days plus the estimate for 24 hours of supportive care including all the tests we've done today. this does not include the estimate for the surgery which will be approx $5000. This is a risky surgery and a reg vet will not touch it. It can only be performed by a specialty surgeon in a 24 hour care facility!
For those of you that would rather send checks our address is:
The Pepper Foundation
3940 Laurel Canyon Blvd. # 735
Studio City, CA 91604
thank you all so much! Please help us save this precious little soul!
sincerely,
Julie Chadwick
The Pepper Foundation