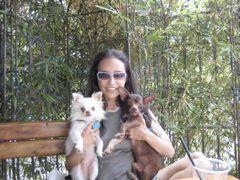 If you're interested in adopting a dog from us, we'll ask you to fill out an adoption application. This gives us a  good chance to find out a little bit about you and to make sure the dog you are interested in will be a good match for your family and lifestyle. We have wonderful doggies listed on Petfinder with descriptions and pictures.
Please check out our wonderul dogs for adoption at:

http://www.petfinder.com/shelters/CA1720.htm 
If you find that special
friend that you are interested in, please send us an email at

pepperfoundation@aol.com

 and let us know and we will send you the adoption application. Coming soon will be our online application to make things easier for you to complete. Please note that filling out the application does not guarantee adoption of an animal. We want to make sure that we find the perfect match for that animal as well as for you and your family!
Since we rescue mostly senior and special needs animals, so many of these animals require special care and lots of TLC because many of these animals have been neglected and abandoned in shelters. The wonderful thing about adopting a senior dog is you don't have to go through that puppy stage of chewing and training. These animals have very simple needs, and are so appreciative! 
 If you have any questions regarding a specific doggie, please don't hesitate to email us at

pepperfoundation@aol.com

.  We are always here to help in any way we can. If you still have not found that perfect match through our rescue organization please check out our links page, which has many links to animals in shelters!
Thank you so much for considering adopting a rescued dog, they make the best companions! We hope you will find that special friend!