Jewel has a new mommy!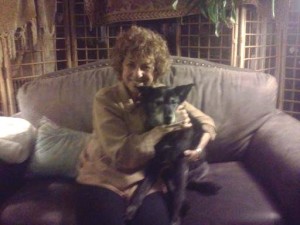 We rescued Jewel from the Moreno Valley shelter, a very high kill shelter! She was slated to be killed becaue she was 10 yrs old and black. Black doggies have a very hard time getting out of the shelter! We rescued her on her last hour! Her foster mommy was only supposed to foster for one day! Ha! Eight months later, she just could not part with this sweet loving adorable border collie mx! We are so happy for the two of them, it was literally love at first sight!
                                            Mabel has found her forever home!!!!
                                 Sweet Mabel was dumped at the North Central Shelter, after she had given birth to puppies. We searched and searched for that perfect home for her for nearly 8 months! Finally a miracle happened. Got a call from a lovely woman who had lost her pit bull mx in Dec 2013. She was ready to adopt again. We were so excited at the possibility that she could have a forever home! We got to the home and Mabel walked right in and went straight over to the doggie bed, made herself at home and started rolling around! Mabel is finally home!! We are all so happy, because this is one of the most precious girls ever,sweet and gentle and we know she is going to live many more happy years and be loved and cherished!
                                Zsa Zsa has found her forever home!
We rescued this tiny senior t-cup poodle from a high kill shelter where she would have been put down if not rescued! She was seriously neglected, had matts so bad she could barely walk, a mouth filled with infected teeth and was completely defeated! Once we did her dental and got her all cleaned up and groomed her whole personality began to change and she flourished into the most loving and happy little girl! All of our prayers have been answered because Zsa Zsa has now found the perfect home and we are so thrilled!!!!! We love you little Zsa Zsa and are so happy for you!!!
                                    Luna and her Kitties!
We rescued this precious little girl and her kitties from a storage shed in the back of an apt building. They were feral and the kitties were covered from head to toe with fleas, and they were severely anemic. A close rescue friend of ours helped to place the kitties and I fostered Luna for a long time and was working to help her trust people. A miracle happened and a friend of mine who was not a cat person agreed to foster Luna. Months went by and one day she called and said, I love Luna and cannot part with her. Luna now has a mommy and lives in a wonderful house in Sherman Oaks! She will never be homeless again!
We rescued little Quincey from the shelter on his very last day before he was about to be killed. He was abandoned by his owner and was in very bad shape, completely matted, and had a broken jaw. After some very much needed medical attention and lots of TLC, we found Quincey a loving forever home where he will be loved and cherished for the rest of his life!
We rescued Nelson from a very high kill shelter on his last day. He was an owner surrender at 10 yrs old. One day we went to the shelter to rescue another dog when I noticed a sad looking black Corgi mx staring at me as is to say " please please pick me." How could I resist that sad little face! Of course we rescued him and now Nelson has the most wonderful mommy in the whole world!
Buscuit is a 10 yr old sweet doggie that we rescued from the Harbor Animal shelter. They said he was a Chow but to us he looked like a giant pomeranian so we nicknamed him Pomzilla! What a sweet gentle soul he was. When we first rescued Buscuit he lived in a foster home with 3 tiny pommie and bunny rabits! He absolutely loves other animals, mostly tiny ones. Unfortunately his foster mom had to move out of state and could not take him with her. We prayed for a miracle and then we got our wish finally after months and months in boarding! Buscuit now has a wonderful new family, with cats, kids, and  guess what??? yep bunny rabbits…Buscuit is now living the life!
 Hannah was a 6 month old chihuahua puppy when we rescued her. Believe it or  not the shelter was going to put her down because they said she was aggressive and a biter!!! NOT! Hannah was just being a wonderful happy normal puppy that just needed some training! Now look at our little Hannah the biter with her new mommy!
We rescued little Stella Luna from the South Los Angeles Shelter where she was an owner surrender! Her family brouth her into the shelter saying she got too old at 10 yrs old. You can see that Stella Luna now has a new mom who loves her more than anything in the whole world!
We rescued Panny  from a very high kill shelter on her last hour. She was about 10 yrs old when we rescued her, a little adorable sheltie mx. She was the most gentle little soul and I could  not figure out how anyone could give her up. She lived in a great foster home for quite awhile until we found her the most wonderful forever home, with two cats and a little boy named Noah who loves Penny so much! Penny is now learning to play the piano with Noah!
We got a call from The Pasadena animal shelter that Jack and Pepper were about to be put down due to age. These two adorable kids had been there for awhile and the shelter did not think they would ever get adopted! They were very bonded with oneanother! We rescued them and got them to the vet and into a wonderful foster home! Pepper the little female had a hernia which needed repairing and Jack has some heart issues, but with proper medical attention both doggies are now doing great and have been adopted into a wonderful loving home! yay!!
Toby is a 6 yr old male yorkie that was found wandering around a condo in Porter Ranch. He was emaciated and matted beyond anything we had ever seen. We got a call from a good samaritin asking for our help so we stepped in to save little Tobie. After getting some much needed veterinarian care and getting groomed, and on a healty diet Toby began to flourish in his foster home. His foster mom and dad were mainly cat people and had never had a doggie before. At first the husband was very hesitant and after a month he was the one who said honey this dog aint goin anywhere! Toby is living his dream life now and is pampered like a little prince!
Willy is an adorable 12 yr old Corgi mx that we rescued at the very last minute before being put down at the shelter. He is the sweetest little guy ever, wags his tail non stop, quiet, loving and was a bit fearful when we got him out. He had a really bad abcess in his mouth and some really nasty teeth. We got him into a wonderful loving foster home and took care of his mouth. A week later the foster mom called me and said she could not imagine her life without Willy! Yay Willy! Willy now gets to spend his days rombing with a little Terrier and has two kitty buddies to play with!
Poor little Daisey was abandoned at the shelter, and was petrified. We actually went to the shelter to rescue another doggie and saw this tiny emaciated poodle screaming and crying, and shaking like a little leaf. We rescued her and the first night out of the shelter she started having gran mal seizures. We had to hospitalize her and she almost did not make it through the night. We found the most wonderful home for Daisey with a wonderful person who has always had poodles and had alot of experience with Daisey's condition. Daisey is epileptic, but is doing great on anti siezure medication and has the most wondeful home in Laurel Canyon! She has two other little Poodle buddies that she loves to hang out with!
 We rescued this tiny little angel from a very high kill shelter just hours away from being killed. He was hiding in the corner, shaking like a little leaf! He went into a wonderful foster home where he got proper medical care and lots of tlc!!! This little guy learned to trust again and we waited and waited for the perfect home to come along and sure enough, Little Muffin Man found a great mommy and will spend the rest of his life being loved and cherished! Way to go Little Muffin Man!!!!!
We rescued this little girl Luna (another Luna) from a  high kill shelter just before she was going to be killed. She was covered in fleas and ticks and was matted beyond belief. She was probably left in someone back yard and was seriously neglected! Luna now has the best mommy ever!
We rescued this little adorable senior Papillon mx from a very high kill shelter. No one was adopting her because she had mammary tumors and was a senior. We couldn'l let her die so we rescued this sweet little girl and got her into a lovely foster home. After proper medical care, and surgery to remove her mammary tumors, she began to thrive in her foster home! I was a little worried cause the foster mom told me Precious Penny was chasing her cats around, so We were preparing ourselves just in case she needed to return her to us!!! no way!!!! here is the latest! Foster mom is madly in love and said she cannot imagine her live without Precious Penny in it and she would never give her up!!!!! So, LOL once again, another foster failure, but a loving forever home!
Little Wing is a tiny teeny 18 yr old chihuahua that we rescued from the Orange County shelter! He had been hit in the head and had a head injury and poor litlte guy's eye was also severely damaged! Due to health issues and neurological condition, he will remain in our care for the rest of his life! He is one happy little guy and loves to run around like a little maniac barking at other doggies!!! We love him dearly!
We rescued Little Willy from a very high kill shelter, where he was sick with pneumonia! We had to hospitalize him for more than a week and we thought we might lose him but he had so much spunk and such a will to live that he pulled through. He was 15 when we rescued him and now two years later he is still going strong and is the happiest little guy in his new home!!!!!! Way to Go Little Willy!!!!!