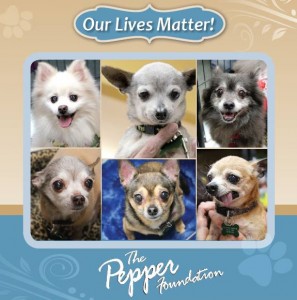 Please help us celebrate senior doggie rescue and join us for an amazing night of music, vegan delights by Veggie Grill in Encino,  incredible hand made deserts by Cathi Perez, Red Cup Raffle with awesome prizes ,& live entertainment in support of The Pepper Foundation dedicated to saving the lives of senior and special needs doggies from high kill shelters. Each animal we rescue gets the very best of care and we spare no expense rehabilitating each animal. All animals are placed into loving foster homes until a forever loving home can be found. We really need your help at this time and we want to make sure we have lots of fun doing it! We believe all animals deserve a second chance!
We also have some very special honorees this year!! We will be honoring two of our very own veterinarians Lauren Matsuka DVM and Alice Villalobos DVM, Sal Valdapeno who dedicates his life going to shelters saving animals, and a very special surprize guest to be announced at the event!!

When:
Sat August 27th 2016 7:00-1030 pm
WHERE:
Guitar Merchant
7503 Topanga Canyon Blvd
Canoga Park, CA
if you have any questions at all please feel free to email us at: pepperfoundation@aol.com
We are very pleased and excited to announce that this will be our second time at this wonderful venue and we want to thank Guitar Merchant very much for opening up their home to us. We had an absolute blast last year!
Performing will be the amazingly hilarious comedian Bobbie Tessel as seen on The Tonight Show and Letterman,  Debra Davis, Howard Richman w/ Cherie Valaray,  David Stone with John Cartright, Julie Chadwick with many more special guest artists.
Tickets sales are $15 in advance and will be $25 at the door so please get your tickets now.This will help us cover the cost of renting the room. Even if you cannot attend but would love to donate to this great cause you can either buy tickets now or send checks to:
The Pepper Foundation
3940 Laurel Canyon Blvd. # 735
Studio City, CA 91604
If you are sending a check please make sure you write the word "tickets" on the check.
Our animal friends are depending on us, they are depending on your to help us make this night a huge pawsatively smashing success!
**for this event we ask that you do not bring doggies***
wish we could have our furry friends there but this is a different venue than our last one!
please help us spread the word and share with your friends and family!
♥ Julie Chadwick – Founder/President
www.thepepperfoundation.org
www.facebook.com/thepepperfoundation
Save
Save
Save
Save
Save
Save