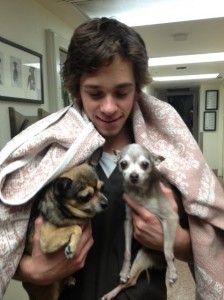 Dear Friends,
We called one of our local animal shelters to inquire about a tiny senior chihuhua that was abandoned. I saw his picture on facebook and he looked so sad  I knew he needed our help. Little did I know what was waiting for me when I got there.  I arrived at the shelter in the afternoon and was told "guess what there is another one!"  It was the saddest sight ever, two little senior gray and brown chihuahuas huddled together whimpering in a cage! I started crying! The staff asked if we could take both of them  because when you try to separate them they both start crying their heads off. Apparently  their owners came in one day and surrendered these two tiny dogs along with another dog, a little senior poodle. The owners came back two days later to reclaim their poodle but said "We dont want the chihuahuas." Can you imagine the terror these tiny dogs faced after being in a home for so many years and then just getting dumped in such a scary place! The tiny one was especially shaking like a little leaf and both seemed so traumatized!
Of course there is no way I could take one and not the other! It is apparent how much they  depend on and love eachother!  They are in urgent need of medical care because they were so severely neglected and obviously in my book there is no love when there is such neglect. They both have severe dental disease and will need most of their teeth pulled. The little tiny male Clyde is very emaciated and scared and will need to put on some weight.The chubby one, Bonnie is very overweight and has some liver issues. After doing blood work on both doggies yesterday our vets would like to do an ultra sound on Bonnie to check out her liver. I have to say that both little dogs are so happy to be out of the shelter and wag their tails non stop!  They are such appreciative little souls for what they have just been through!
ways to help:
We urgently need funds to help with medicals! If anyone would like to make a tax deductible donation our pay pal address is:
Pepperfoundation@aol.com
or can be sent to:
The Pepper Foundation
3940 Laurel Canyon Blvd. # 735
Studio City, CA 91604
We are also urgently need to find a foster home for them! They are such easy little doggies to take care of, so happy and all they want is love! If anyone is in the Los Angeles area and is interested please contact us at pepperfoundation@aol.com While in foster care we will pay all medical bills! Of course if someone falls in love and would like to adopt them, nothing would make me happier!
thank you guys so much!
Julie Chadwick
www.facebook.com/thepepperfoundation

This is a little video I took of them the day we rescued them!