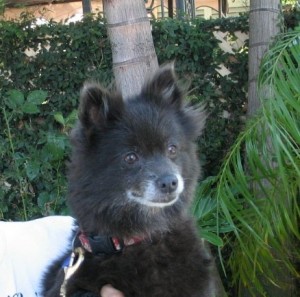 Coco Bean is one of the silliest and funniest pommies I've ever met! If you love Poms but also love border collies she is the dog for you! I tell people she is more like a border collie trapped in a pomeranian body! She is not your typical pom. She loves her tennis ball more than anything in the world and as long as your are throwing it, she is your best buddy! She also has an affinity for squeaky toys! She loves to run and jump around and roll around in the grass! She loves going for long hikes and walks. She would make a great agility doggie!

We also discovered that she loves to run through the sprinklers in the yard!! Even though she is a senior gal, 10yrs young, she has tons of energy! She is approximately 11 pounds of pure love!! If  interested in this special girl please email us at pepperfoundation@aol.com.
She is looking for her loving forever home!